http://www.nashvillescene.com/pitw/archives/2011/04/07/kickstarter-alert-john-guider-seeks-funding-for-his-journey-around-the-great-loop
POSTED BY JACK SILVERMAN ON
THU, APR 7, 2011

AT

8:48 AM

And speaking of Kickstarter ... you may recall

the adventures of John Guider

, documented last month in the

Scene

's People Issue 2011. After a successful career as a commercial photographer,

Guider

decided to throw caution to the wind: In August 2003, he gave up his daily grind, dragged a canoe to the creek that ran through his backyard — the Harpeth River —Â and rowed to New Orleans. He documented the excursion in a gorgeous book of photographs,

The River Inside

. Since then, he's embarked on a series of increasingly challenging trips.

His latest mission: rowing and sailing the Great Loop in a 14-and-a-half-foot boat he built himself. That's a 5,000-plus-mile journey down the Mississippi to the Gulf of Mexico, around Florida and up the East Coast, then up the Hudson, through the Great Lakes to the Illinois River, and back down the Mississippi. He's doing it in stages, and so far he's made it as far as Sarasota, Fla.

If you'd like to help Guider complete the next two-month leg of his mammoth journey,

check out his Kickstarter campaign

. As of this writing, he's got $4,380 of his $5,000 goal, with about eight days to go. His campaign ends at 4:27 p.m. Friday, April 15. Ten bucks will get you a personalized postcard from Key West, $150 will get you a signed, limited-edition copy of

The River Inside

and more. And there are several other donor levels available, starting as low as $1.




About:




In August 2003, John Guider walked out the back door of his home in Franklin, TN and placed a canoe in the creek behind his house. Three months later, he had paddled all the way to New Orleans. Along the way, Guider kept a detailed journal and took hundreds of remarkable photographs, documenting his amazing journey that led him down five rivers, including the Mighty Mississippi. A traveling exhibition of his photography and this companion coffee table book chronicle this life changing experience and bring this adventure to thousands of Arm-Chair Adventurers across America.

In the fall of 2008, John decided to start a new adventure, rowing and sailing the Great Loop. This time John built his own 14.5 foot Expedition Skerry (a cross between a sailboat and rowboat). He set sail in the Cumberland River in Nashville, TN on June 6th, 2009 and two months later he had reached the Mississippi shore in the Gulf of Mexico.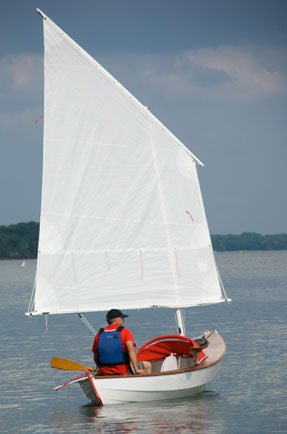 Chesapeake Light Craft in Annapolis, MD helped John make modifications to his boat so that it would be more seaworthy in the Gulf. The deck was replaced and the sail rigging modified. John began Phase II of his Great Loop journey from Bayou Caddy, MS on June 9th, 2010.
The Book:

Publisher: FRP, Inc.
Hardcover, 228 pages
Price: $49.95
BUY NOW
Bio/CV
John Guider is a nationally recognized award winning photographer and author who lives in Nashville TN. His work has appeared in major publications such as Print, Communication Arts and Graphis. He is the recipient of many awards including a national Addy Award, the Cancer Society's Excalibur Award, and the Nashville Advertising Federation's highest award, the Silver Medalist in the year 2000.
His work and his adventures have been the feature of numerous magazine, television, and newspaper articles and broadcasts. In 2009, Guider was a guest author on renowned journalist John Seigenthaler's television program, "A Word on Words". John has been a guest speaker at such functions as The Southern Festival of Books, PhotoArts Santa Fe, and the National Waterways Commission convention.
John's underlying passion is his art and his work has been shown in museums and galleries across the country. His largest project, The River Inside, is the subject of a book by the same name and a popular traveling museum exhibition.
The River Inside
is a national touring exhibition organized by the Tennessee State Museum, Nashville, Tennessee, and presented in conjunction with the National Mississippi River Museum and Aquarium, Dubuque, Iowa. Initial support for the exhibition was provided by the Ingram Barge Company. The companion book is published by
FRP
, Nashville, with editorial and design assistance from McNeely, Pigott, and Fox.