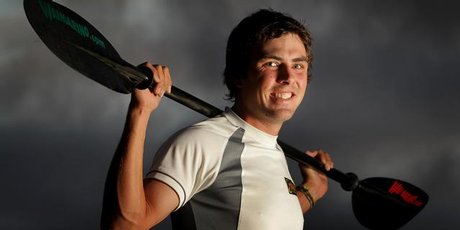 Tim Taylor camped for weeks in Ahipara waiting for the weather to clear so he could get around Cape Reinga. Photo / Alan Gibson
A Tauranga kayaker's quest to conquer the country's coastline pitted him against massive swells and violent lightning strikes, but in the end it was a patch of treacherous Northland water that cut Tim Taylor's trip short.
The 24-year-old has been forced to cancel his bid to make the first complete solo circumnavigation of New Zealand by sea kayak, having paddled more than three-quarters of his 5500km expedition since he set off from Tauranga on November 27.
"It's a bit of a letdown ... and it was sad coming home because this wasn't what I planned but it is what it is."
The adventure had taken Mr Taylor down the eastern coasts of the North and South Islands, around Stewart Island and back up the west coasts to Ahipara, at the base of Ninety Mile Beach.
Before making the tough decision to fly back to Tauranga on Sunday, Mr Taylor had camped for weeks in Ahipara waiting for the right conditions to traverse a perilous strip of water off Cape Reinga, where the Tasman Sea and Pacific Oceans meet.
"Basically, it was just continuously big and bad weather up there and I needed a period of three days for it to be perfect," Mr Taylor said.
"There was a lot of fresh water going around Cape Reinga, it was a nasty little exposed place, and it had the potential to destroy me - it could have ripped me out of my kayak.
"There is not a single commercial skipper who does not respect this area because even in a big boat they know that it could destroy them in seconds if given the chance. So yeah - a real fun place in a kayak."
The wait in Northland took a heavy toll on his fitness level and his sanity.
"Just the fact that you're sitting around for so long; it's all a big mental game. In the end, I had to make the hard call that I was better off just coming back home to train."
Negotiating 4m swells off East Cape and in Fiordland and ditching his kayak on a King Country beach amid a heavy thunderstorm rated among the wildest parts of his trip.
Asked if he would try it again, he said: "I'd do it again in a second."
Mr Taylor plans to return to Ahipara in July or August to complete the circumnavigation of New Zealand.
"I've done about 4700km and when I look at that I realise it's quite a good achievement.
"I've been to so many amazing places and met people from different walks of life. It was just awesome ... I think I'll call it my OE."