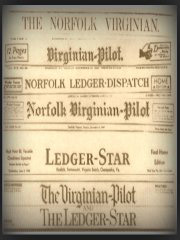 Drawing from the Pilot's expansive archive, Virginian-Pilot news researchers Maureen P. Watts and Jakon Hays look back at our local history. We'll post old photos, stories, advertisements, historical front pages and popular columns unearthed from yesterday's papers; giving readers a glimpse of this region we call Hampton Roads. Feel free to leave comments or remembrances.
Follow Back in the Day's Twitter account:
@musty_clips
All images are property of The Virginian-Pilot. Use without permission is prohibited.